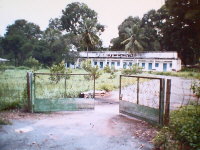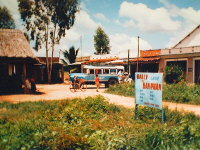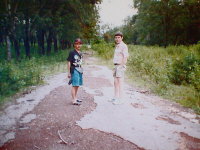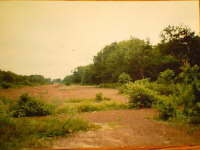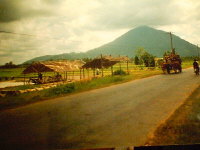 The below photo's were taken by Curtis Gilliland on a recent trip back to Lai Khe.

click on any to see larger view

picture of Nui Ba Dien, Black Virgin

Mountain, with the ox cart and the family on top. 

Market on old Lai Khe airstrip

Picture of the airstrip is looking back toward Saigon or

to the south and the Brigade HQ were on the right looking back toward Saigon.  The market is also on the main runway looking toward Saigon. The old headquarters building is still standing plus three or four more. 

Former main street from Charlie Company to Bn HQs

Barber shop; this should bring back a few memories :-)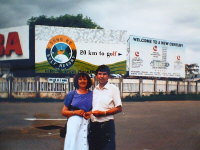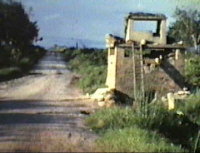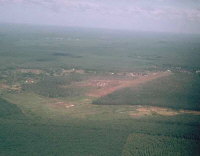 French outpost "Thunder Road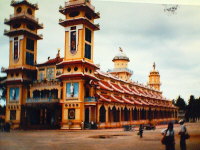 Thought you might want to see what was in Tay Ninh that was so

important.  This is the headquarters of the Cao Di religious sect.  The Cao

Di were very important, as they were a thorn in the side of Diem and his

regime.  They are located in Tay Ninh City, down the road from Nui Ba Dien.

There are millions of followers and prior to the war they had their own army

who fought the all parties, communist and democratic.  The communists will

not let them have a leader today and so they practice without a real leader

daily.  Each day at 12:00 they have services that are open to the public.

Tay Ninh city is located not very far from Dau tieng and guessing it would

probably be about 20 miles from Lai Khe.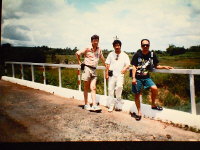 This is on Thunder Road, Hwy.13, on the way to Loc Ninh.  Probably

about 5 miles up the road from Lai Kae.  Unlike, what many people may tell

you, you can travel anywhere in Vietnam without a guide and on your own.  In

my pass eight trips back to Vietnam, I have never had any problem traveling

on my own, via motorbike, car or walking.  You are able to go where ever you

want and whenever you want.  I was told by a Vietnamese friend that they did

follow me on my first trip, but I really doubt it, for I was way outside of

Lai Kae without a sign of car or person.  Matter of fact of the 4 Vietnamese

with me, all friends,  I was the one who gave my friend the driver directions.  None of those with me had ever been to this area of Vietnam.

We drove down cowpaths, dirt roads and old tank trails.  So much for any

left over mines!

This is a picture of the Dau tieng airstrip as it is today.  It is no longer in use and the strip is almost completely dirt, due to erosion over the years.

Dau Tieng swiming pool;  Today the pool is back in use after years of neglect.  For the first years when I went back to Vietnam, the pool was in bad shape.  It was not blown up as has been the rumor over the years.  There is a helicopter, a few armaments and a small park nearby, commerating the victory of the north.  Peace reigns

This was taken outside what was once the library, I think.  As I remember it was to the north of headquarters at Lai Khe, but on the same street.  Headquarters was on the left side of the airstrip looking north, or in front of Lai Khe village.  The old man, probably not much older than me worked for the 1st during the war.

note from Curtis regarding Long Ben

Long Binh today is a large industrial park with probably 20 to 30 large corporations scattered throughout.  Looks much like factories here in the states;mowed lawns and cleaned factory windows.  There is NO sign there was ever a base for U.S. troops today.  Nothing. Down the road there is a new Mall, with shops kinda like the states and a KFC. 

   Really,  Lee there just isn't much of a sign of there being a war today.  Much of the jungle is gone and replaced with home and rice paddies.  What could not be farmed then is today.  Where there were dirt roads, in some places there are four-lane highways.

   There are still many, rice farmers like there was then but probably more so today.   

   The Black Virgin mountain or Nui Ba Den is most recognizable sign and of course the rolling contour of the lands around Lai Khe is still recognizable.

The two below pictures someone sent to me